Last weekend, July 27-28, we attended the 2nd Annual Intergalactic Electric Championships. It was held at CRC Raceway in Rome NY.
Some of you might remember the CRC Intergalactic Short Course Championships from last year… Well this is that same event, except moved up a little earlier in the season and with a slight name tweak. With the popularity of the 1/8 E-Buggy class growing and the revival of Stadium Truck @ CRC, it made sense to not pigeonhole the event as "short course" centric.
The event is all electric classes, which is unusual for CRC, since they always have a decent showing of nitro racers. They are hosting 2 Pro Series races this year though, so nitro racers can get their fix at those. Below are the classes that were slated for the weekend.
Classes:
2WD Short Course 13.5
2WD Short Course Open
4WD Short Course Open
Stadium Truck 13.5
1/8 E-Buggy
1/8 E-Truggy (cancelled due to low entry)
Total they had 145 entries across the 6 classes. That makes the event bigger than last year, which to me was a little surprising knowing a fair share of locals who didn't make the trip out. Had they been there I imagine the entry count could have been over 200.
As many of you are well aware, mother nature has not been kind to CNY this summer. Rain, rain, and more rain has been in the forecast every day as long as I can remember. A number of towns have flooded which caused a lot of damage around CNY. Needless to say the past few weeks the track had some rain ruts before the event. The CRC crew busted butt to resurface most of the track and get it smooth as glass before the race though. They did an awesome job.
With that said, let's move into the actual race coverage. This event was sponsored by a ton of different awesome r/c manufacturers and they awarded door prizes throughout the weekend.
The sponsors were:
Calandra Racing Concepts
CowRC
HRP
Losi
TLR
Horizon Hobby
Dynamite
RC Trim
RC Driver
Team Associated
R/C Speedshop
Genesis R/C Products
and us (RCSoup)
I also want to take this time to thank Thomas Fiske for letting me use a lot of his awesome photography. He took a lot of the following photos. You can friend him on Facebook to see a lot more.
Weekend coverage begins, now!
So Saturday started with setup and practice. The track/store opened at 8AM. You had to sign up before you could practice. Racing eventually started around 1PM. I wish we started earlier, maybe we could have gotten more of the event in (more on this later).
With the drivers meeting in the books, it was time to hit the track! Looks like it will be a beautiful day for some racing! Track was awesome!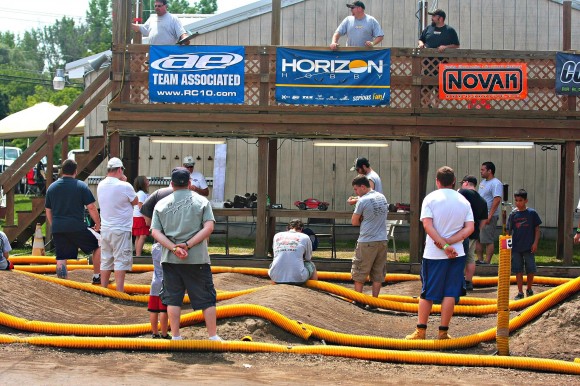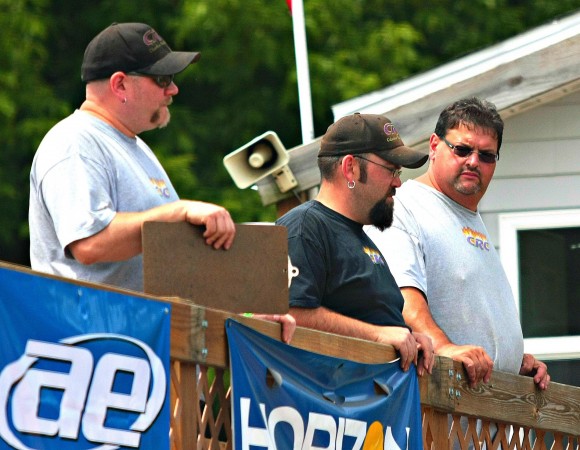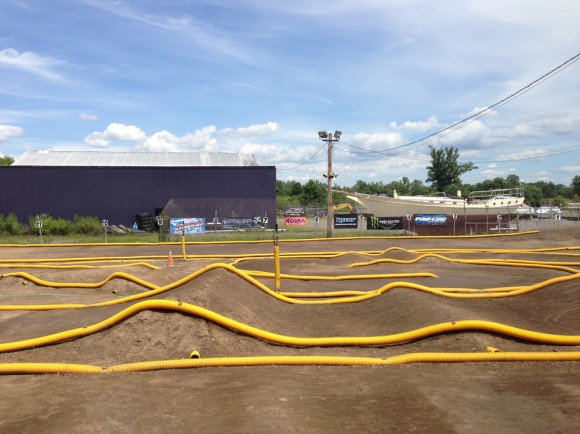 The Tony's Pizza food stand was also in the house, keeping racers fed all day without having to leave the track!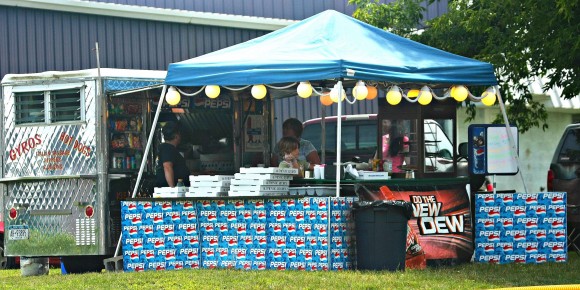 Some random Soup member pics on the drivers stand.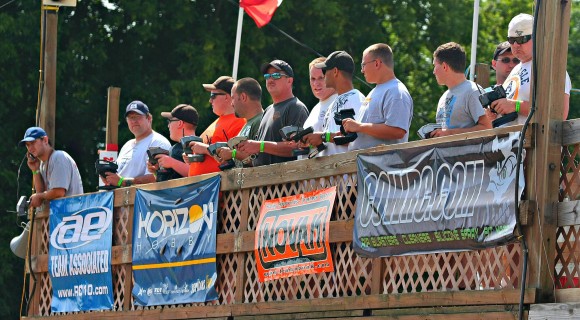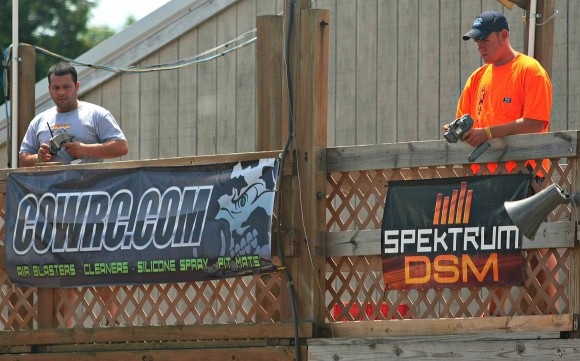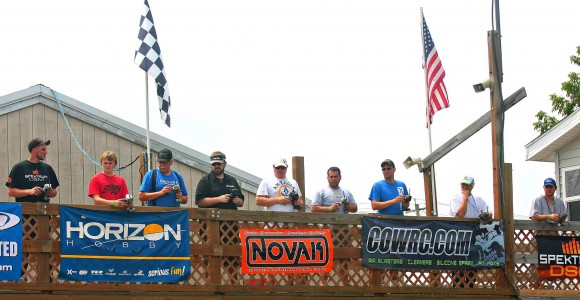 Here are some Team Soup rides you might have spotted on the track through the weekend. Sorry if any of us were in your way! lol.
Jim Decker's Tekno converted Hot Bodies Ve8.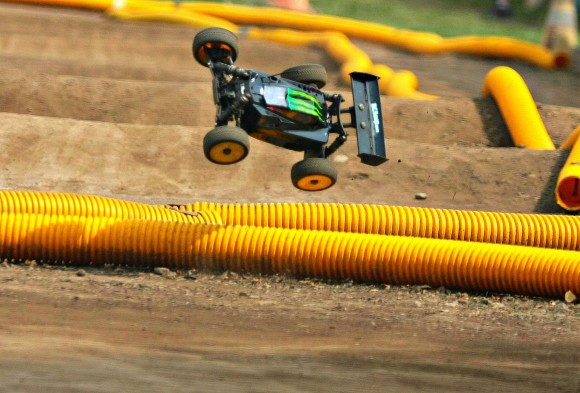 Matt's Durango DEX408.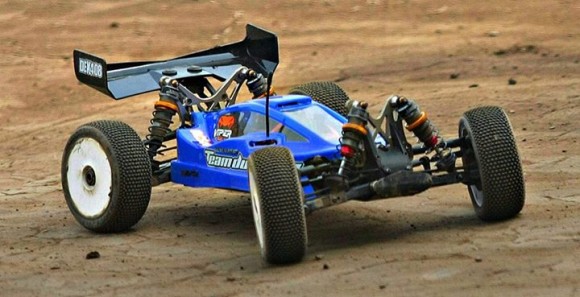 Dick Decker's Duratrax DXR8-E.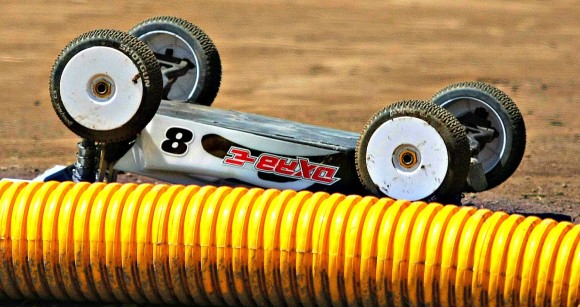 Kevin's Serpent Cobra S811-Be 2.0.

Random racing and pit shots!
And now some less fun coverage… read on.
So, Saturday was awesome.. the track was dry and fast. It was about as much as a racer could ask for. Then evening rolls around and the clouds roll in. It was later and we already had gone through round 2 of qualifying and were about half way through round 3 (heat 10) when the skies opened up and it began to rain on our fun. It was around 9PM or so I think.
We went from this….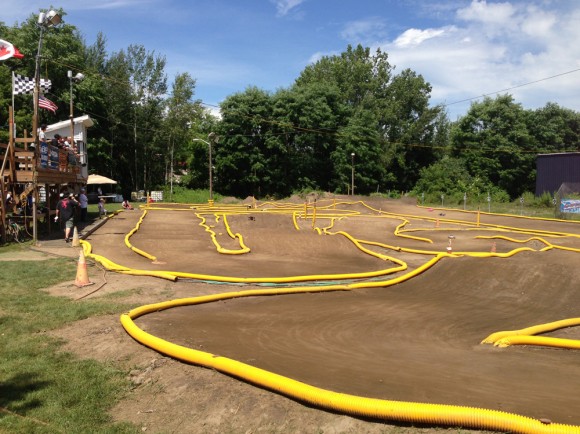 to this….. 🙁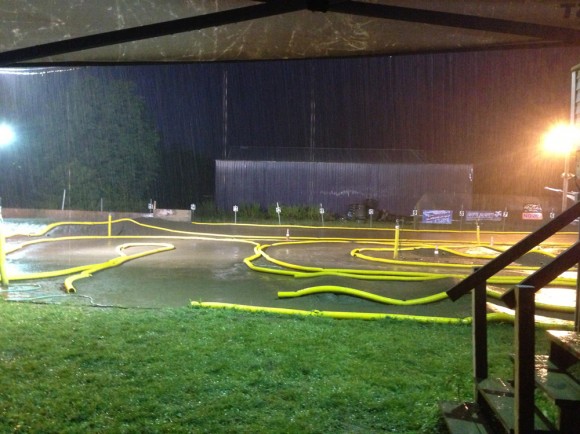 So anyways, they called it a night and said we would be picking up where we left off at 8AM. We were to check Facebook for updates on track conditions. Later that night they postponed it even further till 10:30AM start time for Sunday. We got there and it wasn't raining. There were high hopes we might get it in and the weather in the area would leave us alone and we'd get the race in. CRC already cancelled Round 4 of Quals at this point in hopes of getting the mains in.
We started at 10:30 sharp as planned. The track looked like this. I wasn't too stoked to run on it. It was in much better shape than we all anticipated considering the rain we got overnight, but it was certainly not ideal running conditions.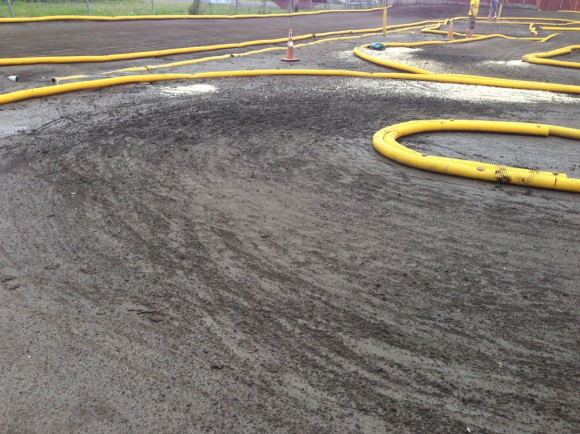 My 1/8 E-Buggy was fine when I ran it. It picked up a little mud the first heat, but the chassis is all closed off with the body. The air compressor easily cleaned the car up well.
The short course trucks… got a bit dirtier.
Matt's SSC converted Slash 4×4.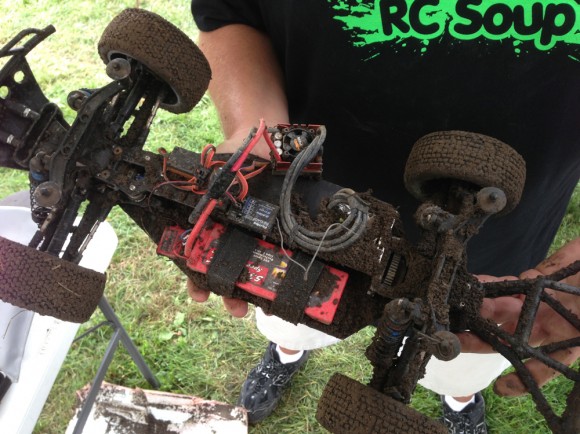 With the 4wd SC classes finishing up, it was time to setup the mains.. and then… you guessed it..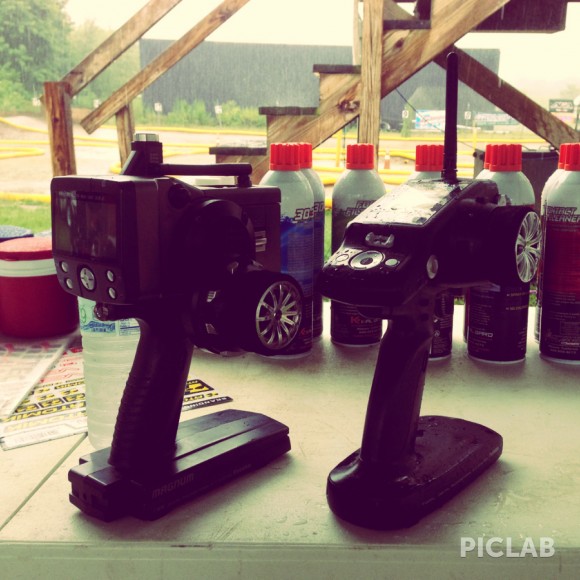 It was a relentless downpour. No way were we running again the rest of the day. Frank cancelled the mains, and had no choice but to award plaques based on qualifying positions from the 3 rounds we did complete. Results and awards on the next page.
Here are the results.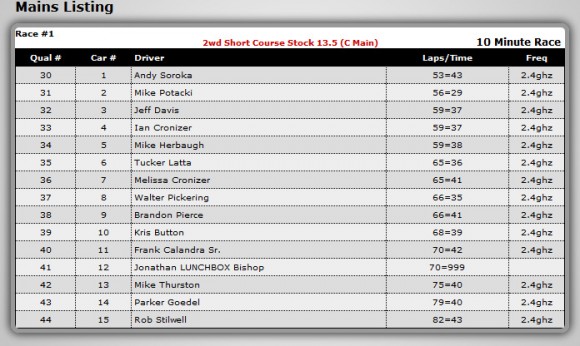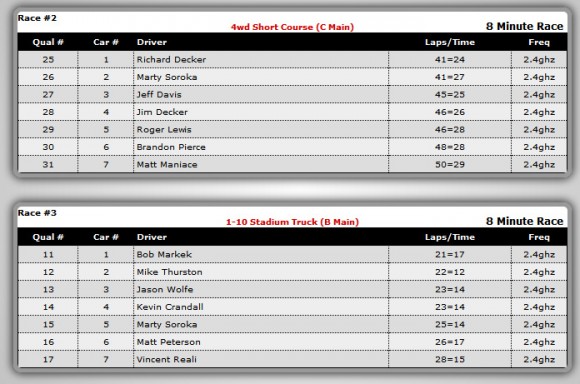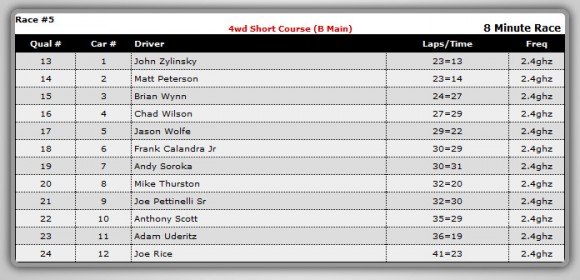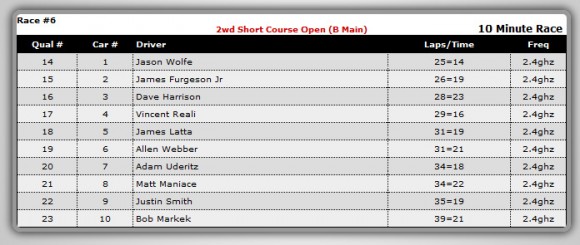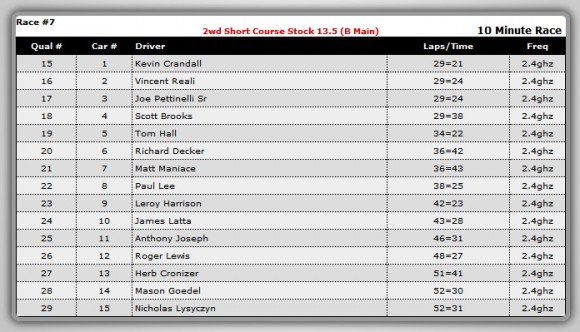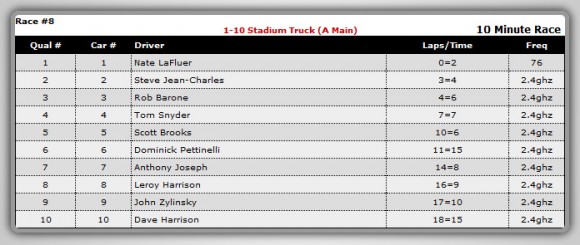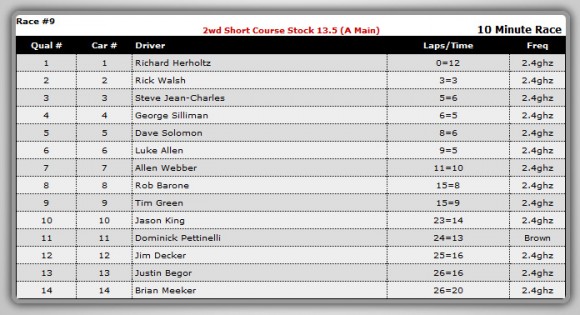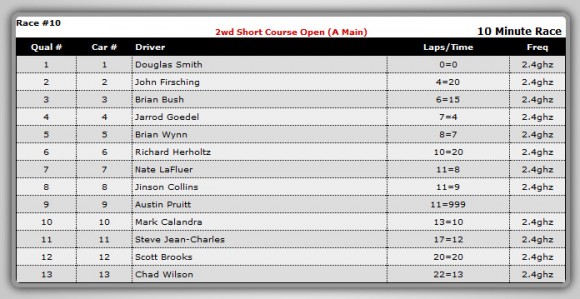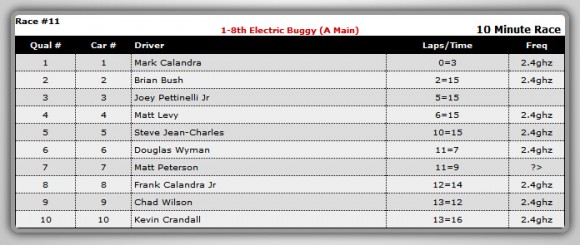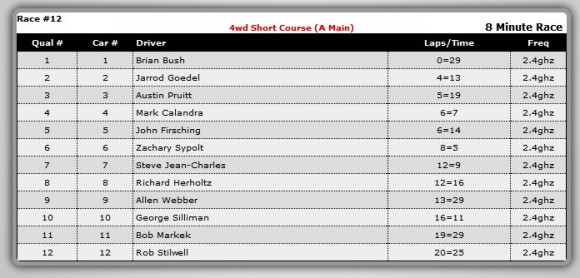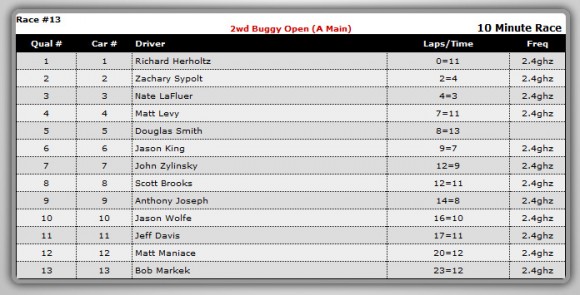 So with the news that the rest of the race was rained out, everyone was told to go inside for awards presentation. Sandy Snyder did the honors of handing out the plaques as Frank read off the would-be winners based on their qualifying position for the mains.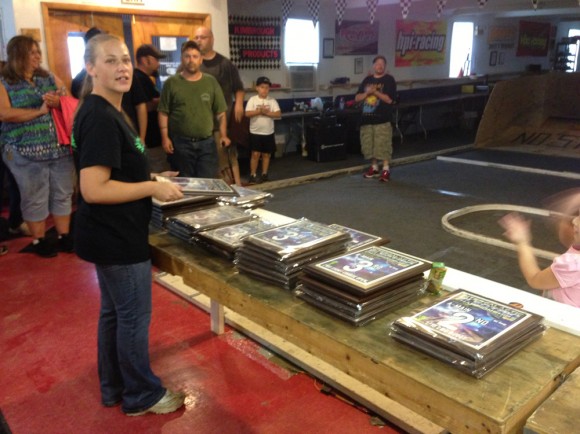 Check out them plaques!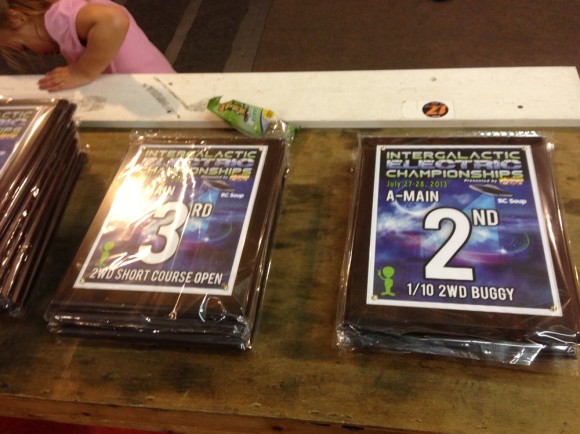 Everyone packed in tight to gather for the awards.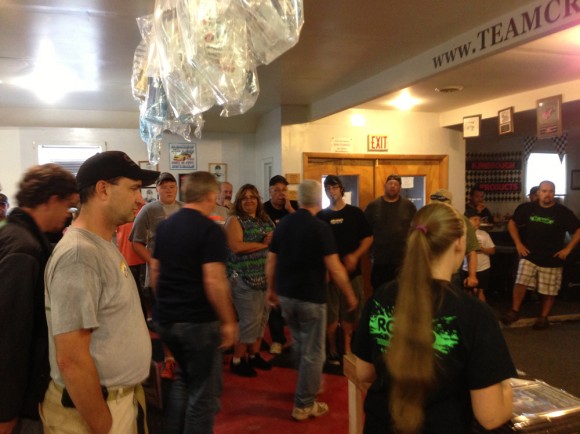 I even got one!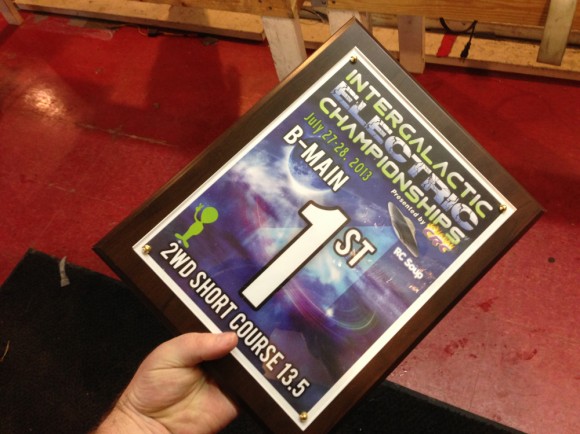 Here are the Top Qualifiers, and by default, the winners as well.
Nate LaFluer takes Stadium Truck 13.5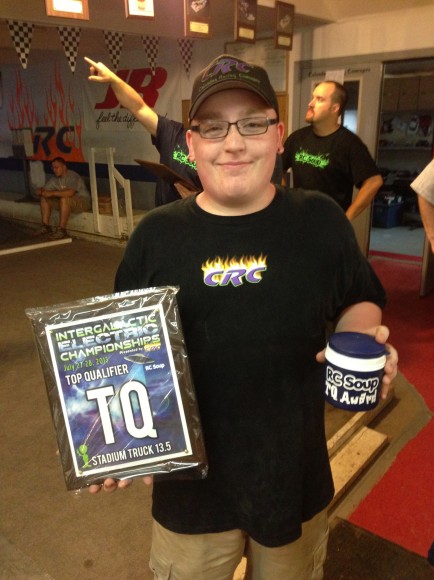 Rich Herholtz takes 2WD Short Course 13.5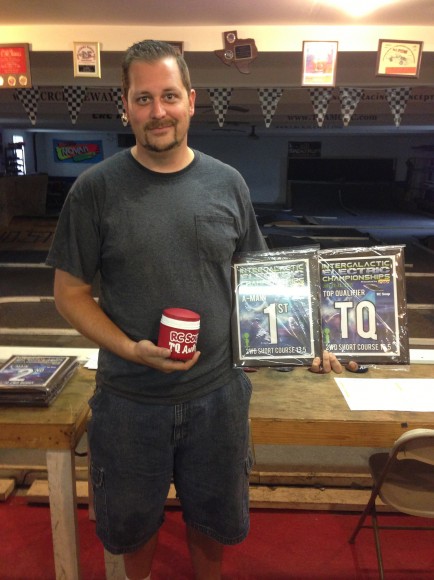 Doug Smith takes 2WD Short Course Open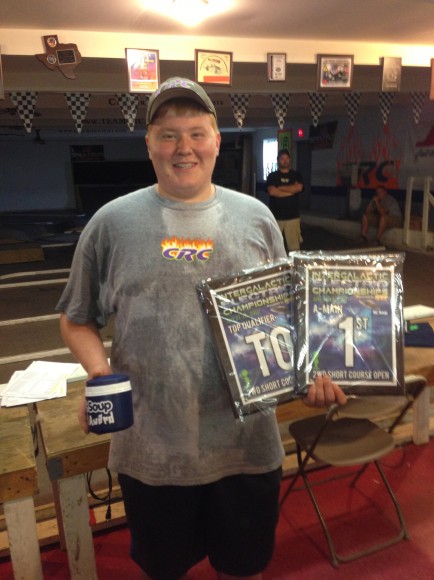 Mark Calandra takes 1/8 E-Buggy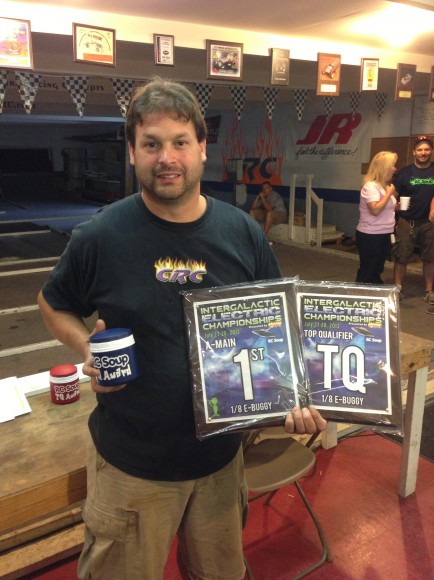 Rich Herholtz also takes down 2WD Buggy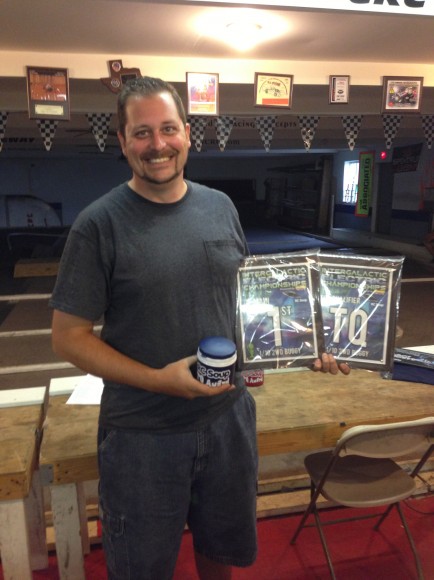 Not pictured is 4WD Short Course champ, Brian Bush.
Overall it was still a fun weekend despite the unwanted moisture. Frank and crew did the best they could at getting the show in. As long as they'll have us, RC Soup plans to remain a supporting part of this event in the future for sure. See everyone next year! If you want to see the full event recap with more photos, hit up .
– Team CowRC